Calendar
The Museum's regular events include:
Annual Strawberry Social
June (2023 dates to come!)
This sweet event attracts families in the community to the museum for a lovely afternoon chock-full of strawberries, ice cream, and cake, as well as various historical demonstrations and activities offered on-site.
Annual Victorian Tea
July (2023 dates to come!)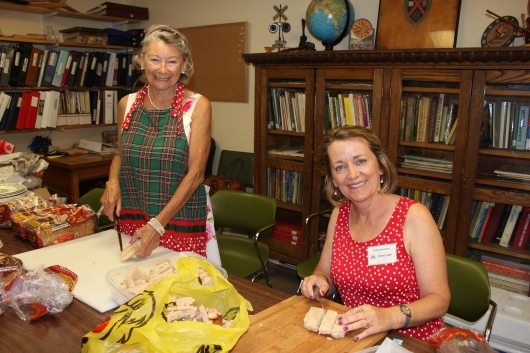 The Museum's annual Victorian Tea features sandwiches, scones, and tea --of course-- along with entertainment from local musicians. There is also a raffle and silent auction!
There are two seating times, and we ask that you call ahead of time to book a time slot, as the event is quite popular. The seatings are at 11:30 A.M. or 1:00 P.M. and you can book by calling (613) 735-0517 during our regular working hours. The prices for the tea are $12.00 per person, $10.00 for members of the Ottawa Valley Historical Society and $6.00 for children under 9 years of age.
If you would like more information, please call (613) 735-0517.
We hope to see you there!
Summer Evensong Services
Every Thursday in July and August at 7:00 P.M.
Come out and worship at the Museum's Summer Evensong Services held each Thursday at 7:00 P.M. in the Summer at the Micksburg Pioneer Church. These services are multi-denominational lead by guest clergy and volunteer organizers.
✟ 2023 Dates and clergy to be determined ✟
Craft Beer and Smoked Meat Tasting
2023 dates coming soon!
The Museum and the Pembroke Professional Fire Fighters Association Local 488 host a Craft Beer and Smoked Meat Tasting event on the grounds of the Champlain Trail Museum and Pioneer Village. The smoked meat is prepared by members of the Pembroke Professional Fire Fighters Association Local 488. You must be 19 years or over to attend this event. Stay tuned for more details, COMING SOON!
Night at the Museum
Friday, October 28, 2022. 6pm - 10pm.
This year's Night at the Museum event is for children ages 7-12. There will be games, activities and we will be showing a Halloween themed movie with popcorn provided! You can call us at 613-735-0517 to pre-register your children for the event, or send an email to curator@champlaintrailmuseum.com.
Christmas Tree Lighting
2022 date coming...
This event replaces the Christmas Lamplight Tour. Running from 2:00 P.M. to 6:30 P.M., this is an event for the whole family! Children can have their picture taken with Santa by the Kids Day Station, write their letters to Santa in the schoolhouse, have a hot chocolate, decorate gingerbread cookies and check out how a plum pudding is made in the pioneer home.
Christmas Market
Sunday, November 27, 2022
The Champlain Trail Museum is holding it's THIRD annual Christmas Market on Sunday, November 27, 2022, from 11:00 A.M. to 3:00 P.M. You can tour the museum and pioneer buildings and start your Christmas shopping! There will be a raffle draw, and refreshments available for purchase. Admission and parking are free. For more information please phone (613) 735-0517.
March Break
March (2023 dates coming soon!)
The Champlain Trail Museum will be offering March Break programs for kids again for 2023! 2022's camps featured Shoebox Archaeology and Prehistoric Pottery programs for ages 5-12. Keep your eyes peeled for next year's fun and affordable March Break programs.
NOTE: Advance registration is required. Please call the museum in the new year to secure your child's spot!
| Sun | Mon | Tues | Wed | Thu | Fri | Sat |
| --- | --- | --- | --- | --- | --- | --- |
| | | | | | 1 | 2 |
| 3 | 4 | 5 | 6 | 7 | 8 | 9 |
| 10 | 11 | 12 | 13 | 14 | 15 | 16 |
| 17 | 18 | 19 | 20 | 21 | 22 | 23 |
| 24 | 25 | 26 | 27 | 28 | 29 | 30 |
| 31 | | | | | | |